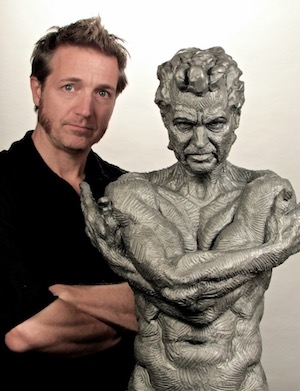 Emmy and Academy Award winning sculptor Wesley Wofford works from his private studio in the National Forest of North Carolina. Wofford Sculpture Studio LLC, a 2,300 sq. ft. facility, is nestled with his home on a mountaintop in Cashiers. The studio is always filled with sculptures at various stages of completion, the large commissions occupying the same space as the portraits, commissions, gallery pieces, and maquette studies for submissions. He continuously participates in both indoor and outdoor exhibitions throughout the country. Wesley organized a sculpture park within The Village Green near his home, which he was the curator of a Permanent Collection and three Biennial Invitational Exhibitions. Wesley was recently invited to join The Bascom Board of Directors in Highlands, NC, and curated an Inaugural Outdoor Sculpture Exhibition that opened May 2015. In August 2016, Wesley was elected a Fellow in the National Sculpture Society, a distinguished honor in his field. He was awarded Signature Status with The Portrait Society of America in March 2015 and is an elected member of The Academy of Motion Picture Arts and Sciences and The Portrait Sculptors Society of the Americas. Wesley's sculpture is recognized on a national and international level with various awards and publications celebrating and featuring his work.
Early Years & Work
Wesley is originally from a small rural southern town in Georgia and displayed an artistic talent at an early age. He enrolled in Valdosta State University's BFA Program on a competitive art scholarship, but after several years of study decided to leave and head for Hollywood, California. Infatuated with hyperrealism, Wesley pursued work in the motion picture industry creating realistic people, characters, and animals. His obsession with advanced translucent silicones led him to develop his own formulas and techniques, which in turn catapulted him to the forefront of the makeup effects industry. Wesley has worked on over 75 motion pictures and television shows. His credits include A Beautiful Mind, Hannibal, Batman and Robin, The Rock, and Collateral. He has personally worked with such actors as Robert De Niro, Tom Cruise, Robin Williams, Julia Roberts, Will Smith, Chow Yun-Fat, and Russell Crowe.
He has been featured in numerous magazine articles and television coverage and has received many awards, including an Emmy from the Academy of Television Arts and Sciences as well as an Academy Award.
Today
In 2002, Wesley became dissatisfied with the medium of film and moved to the mountains of North Carolina with his wife and two children to pursue Fine Art Sculpture full time. He still works on the occasional film to "keep a fresh perspective on both his sculpture and his psyche", but spends most of his time completing both public and private commissions as well as pursuing his own compositions.