The Cashiers Designer Showhouse, benefitting The Cashiers Historical Society, caps off the summer season on the Highlands-Cashiers Plateau. This 2-week long event features the work of interior designers, landscapers and artists on display in the environment of an area home. This year, Wofford Sculpture Studio's "Balance" was part of it.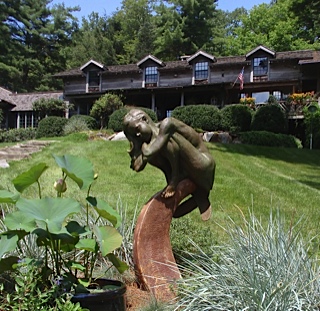 About the Sculpture:
This beautiful sculpture was originally commissioned by Summit Charter School in Cashiers, NC and is located on its campus in The Faye Pressley Memorial Garden. Wesley was commissioned to do this piece in honor of a fine woman, Faye Pressley, who was adored by many.
Its inclusion in this year's Showhouse is a wonderful compliment to the home's theme, which is "Reflection".